Wed 1 Sep 2010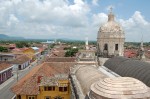 Hi All!
Pura Vida!! Costa Rica was nice (more about this later). But, Nicaragua was BETTER!! Once we settled into our hotel, Allegro Papagaya, we noticed that we could arrange a day trip to Nicaragua. (Tip – All day with breakfast and lunch $135). There was no way I was going to pass up this opportunity.
We got up at dark-thirty to meet our ride to grab breakfast, which was part of the tour. He shuttled us about 25 minutes away to a restaurant just past the airport.  Not knowing what to expect, we sat at a table with a few others who were also going to Nicaragua.  Bacon, eggs, and toast…how could such a simple ordinary breakfast be sooo good?  It was delicious!!  This was only a preview of the wonderful day ahead of us.
Border control:
After breakfast and introductions, we then loaded into the bus and pushed onward to the border for the next 2 hours or so. Once near the border, we were immersed in a sea of 18-wheelers waiting to pass immigration. (I don't know why I didn't take a picture—uurrghh). Luckily, our guide knew the ropes and got us through the lines quickly and easily. We did have to get out and actually present our documentation to authorities. Ok, so I also bought a candy bar or two and a soda!!
Now that we were back on the road, the guide gave a lot of information about the area. Actually, he was talking too much.  At this point, I sensed the need to take my mid-morning sabbatical nap. So, I missed his explanations about the scenery and background info.
I woke up just as we embarked upon the colonial city. We spent a great deal of time exploring the old church, La Merced, and its bell tower. The views were spectacular!  You could even see the Cathedral Granada in the distance. I am getting all excited just reminiscing about the adventure.
The next part of the tour included a jungle boat ride wherein a hindsight view enabled us to see the volcanic vistas. We also saw monkeys on an island in the middle of the river – strategically place for tourist purposes!! LOL!!   Yes, Nicaragua has interesting wildlife.  After exploring Granada, there was still plenty more to see.
Masaya Volcano – It's Active!!
As you approach the volcano, you can see a huge cross marking the top. Warning signs abound telling visitors to park outward facing the exit and giving instructions to only stay about 20 minutes as to not be overcome by gases. Climbing to the top, Jeff fell in love with my camera and couldn't resist being my photographer. He snapped so many pictures and told me to "work it" – so funny!!  We were utterly amazed when we reached the top and saw inside the rim of the crater, with gases spewing out!!  According to our guide, the cross was erected in honor of a priest who either stopped people from sacrificing babies into the volcano or exercising the devil from it…I guess the story depends on what guide you get!!
After a great lunch and shopping in the nearby marketplace, we headed off to see another volcano and Nicaragua lake. I don't even remember the name of the volcano, but it was such a special treat!!
At the end of the tour, our guide gave each of us a maracas with our names engraved!! This was such a pleasant surprise. To say the least, I was very impressed with Nicaragua. Who would have thought that all the notions of it being unsafe, full of drugs, and poverty, could result in such a wonderful adventure in nature and culture!
Take a look at my photo essay of the trip…Oh yeah, I forgot to tell you about Costa Rica. Look for this in my next post.
Inspiration – "You have two choices in life. You can dissolve into the main stream, or you can choose to become an achiever and be distinct. To be distinct, you must be different. To be different, you must strive to be what no else but you can be." (Unknown)
Be blessed beyond measure!!
~A