Thu 30 Sep 2010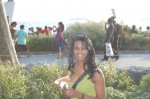 "You've never been to NY!!"  That's what people exclaim to me, knowing that I have been all around the world, but never NYC.  Well, after firming up details for my Holland America cruise slated to leave out of Manhattan, I finally decided to take a bite out of the big apple.  
NYC here I come!!
Hurricane? What!?!
For this "sabbaticalscape", my friend Kerri was able to join me again.  Little did I know that Hurricane Earl had dibs on the big apple as well. Weather reports were pouring in stating that Earl was on his way toward our intended path. But with tickets bought and bags (almost) packed, this did not stop us!
The Arrival – Day 1
We landed in Newark and shuttled our way to the Marrakech hotel, located on the Mahattan's upper west side.  This trendy boutique hotel was nicely decorated in a Moroccan motif.  Energetic music greeted us as we entered the door and walked up the stairs to the front desk for check in. With no elevator, the bell hops eagerly packed our bags to our 3rdfloor abode.  The room was clean, cute, and kind of small…much like our budget!! But I must say that I was well pleased with the excellent service from the staff.  They did a lot to accommodate us – everything from hailing cabs to carrying bags, and getting a delicious pizza ordered at 3 am!
Not wanting to waste any time, we quickly put our bags down, got a map, and hit the streets. I was able to give a friend a call, who referred us to a small restaurant many blocks away.  Much to my surprise, the food was really good.
From there, we continued walking…walking…and more walking down Broadway. Then all of a sudden we heard music. It was Lincoln Center!! They were having a free outdoor concert/opera of Hansel and Gretel on the big screen…did I mention FREE.
The Experience – Day 2
 The next day, a friend of mine offered to show us around the city. But, Kerri had other ideas.  Needless to say, after much "discussion", we bought the 2-day ticket for the hop on-hop off bus and decided to meet up with my friend later that evening.  Regardless, I knew we would have fun.
As a first timer in NYC, imagine my surprise as I stepped out of the hotel, caught the nearby subway, and in a flash we were on 42nd street in Times Square.  Amazing!  The lights, the people, the buildings, and the shopping!! But wait, we were also hungry.  Generally, my rule while traveling is to only eat things that are local to the area.  In other words, no chain restaurants!! But, we made an executive exception – McDonald's.  We had to eat quickly and get moving – so much to see and do.
From the hop on bus route, we were able to see the Empire State Building, the original Macy's, Greenwich Village, and more.  We then walked to the World Trade Center site, did some window shopping, and walked down to Battery Park. Hungry again, we bought a $2 hot dog from the infamous carts. I thought for sure I would be sorry, but everything turned out ok…if you know what I mean.
Nearing dusk, my friend Keir met us at the park and took us around to board the Staten Island Ferry. I actually saw some kids break dancing in the street! Of course, this added to my authentic NYC experience. LOL!!!
With the night still young, Kerri was ready to go out.  Actually, I could have gone back to the hotel and hung out in that area. But, we were in NY and we were both eager to break in the hot new shoes we bought.  Nonetheless, we danced, met new friends, and club hopped (a first for me). We got back to the hotel and guess what?  Half asleep, Kerri wanted a NY pizza.  She ordered some awful looking pizza at 3 am in the morning. Turns out, that was the best $30- 3 am in the morning pizza I have ever tasted…Not anything like pizza here at home.
The Explorers – Day 3
This was the last full day of our labor day weekend and not being morning people, we pulled an "Angie" – we didn't get up until 1 pm. But, we still had one more day on our hop on bus ticket. So, we decided to use it for the blue route to Harlem, the museums, and enjoying Central Park.  We never did make breakfast anywhere. LOL!!!  Oh, we did forget one thing… the bus stopped running at 6!!  (Tip – Always note where and what time the last bus runs). So, we explored, okay walked,  the area back to the hotel , stopping to eat (as usual) and just taking in the sites. Even with our late start, it turned out to be a great day.
The End – Last day
With only a few hours left before check out, we rolled out of bed at 7 am with a goal to get on tv. We took the subway into Manhattan and started to make the rounds to each tv studio. I actually got on GMA!!  Even though it was only for a split second, it was a thrill to call home and to tell them to try to catch me on the show. In addition, we were lucky enough to get a photo with anchor David Muir.  Afterwards, we made it to the Met to snap photos of us with the masters.
Much to my surprise, I LOVED NY!
With only a short amount of time left before Kerri's shuttle arrival, we made it back to the hotel—just in time!! She left for Houston and me..well, I was en route to my next sabbaticalscape – a 10 day cruise of New England and Canada. WOO HOO!!  Oh by the way, we never saw any signs of Hurricane Earl!
Inspiration – Don't save all your dreams of retirement for the end.  Live some now while you're young, healthy and able to tango!  Tim Ferriss
Be blesssed!
~A