Cozumel
Archived Posts from this Category
Tue 2 Nov 2010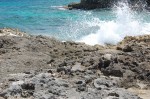 Just as the summer was winding down, we decided to take the kids on a trip – a cruise to be exact. Leaving out of Galveston, we boarded the recently renovated Carnival Ecstasy for a 4 day trip going to Cozumel.  It was actually nice for a quick getaway.  The kids loved it!
If you are planning a similar cruise, here are some tips for you:
1 – Bring air freshener or deodorizer – Sometimes the bathroom and cabin, or compartment as my 6 year old nephew called it, can get stuffy.
2 – Gratuities are automatically added to you account.
3 – Cozumel has beautiful scenery!! After docking in Cozumel, you can get an air conditioned tour van that will take you to the free beach, shopping, and tour of the island for approx 4 hours really cheap. (We paid $15 per person, with 10 people in the van).
(Taxi service is widely available but negotiate a price & agree on it before getting in the cab).
4 – There are free beaches, but it is customary to buy drinks/food. (Actually, the food was cheap – like 6 bucks for nachos).
5 – Sign up for the cruise line royalty club/frequent cruise club for gifts, for special invitations to parties, onboard discounts, and other goodies.
6 – Make sure you know what kind of cabin you are purchasing. For example, some window cabins are obstructed with only light coming in and no view.
7 – Tell the travel agent, waiter, or cruise line if you are celebrating something special…they may give you a slice of special dessert at dinner.
8 – Although you won't be in your room often, check to see what free/on demand movies are available on your stateroom tv.
9 – Bring any medications with you like Pepto Bismal or Advil. These things can be pricey on the boat.
10 – Get to know your cabin steward. They can be a great help for things (extra blankets, lotions, and etc).
11 – You don't have to eat everything on your plate.  But for the fun of it, order ALL  the deserts!!
12 – Review the daily agenda of classes and events the night before so that you don't miss anything.
13 – Take a journal, a good book, iPod, or magazine to read while relaxing at the solarium or poolside.
14 – Many of the onboard shops have clearance sales the last sea day or the last night of the cruise. Get your last minute souvenirs then. *This ship had a great $10 boutique that had great accessories. I picked up a FAB straw beach bag!
15 – Get to the shows early to get a good seat.
16 – The internet can be expensive at sea. I would suggest getting online at an internet cafe in port. Just ensure that you logout appropriately.
*** There may be only one outlet in the some cabins!!
17 – A lot of ships now have anytime dining or mytime dining. This gives you the flexibility to eat anytime you want. You may have to pay your tips upfront, but at least you can eat whenever you want.
18 – Bring shower cap and facial wipes to remove cosmetics (saves on towel usage).
19- Relax and Enjoy the journey!!
Inspiration – Once the travel bug bites there is no known antidote, and I know that I shall be happily infected until the end of my life  –  Michael Palin

Be blessed!
~A