Sat 7 May 2011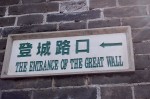 Hi All!
Years ago,  I made a pledge to celebrate my birthday by traveling.  This year was no different.  In fact, it was definitely a stellar year with stellar destinations…A 12 day cruise to China, Russia, and Japan!!  So, follow along as we  journey through this cruise of a lifetime!
SabbaticalScape…Shanghai
The trip started off jetsetting on my birthday from Houston to Newark and then onward to Shanghai.  Once in Shanghai, we had the opportunity to explore the city until….we spotted KFC!! I was indeed hungry but didn't have any Yuans/RMBs . Surely, KFC would accept a credit card – NOT.  The journey to the ATM began.  Actually, it wasn't hard to find.  We got our money and our original recipe.  Ok, I know I broke my rule of no local food chains while traveling, but I needed a quick fix.  By the way, KFC Original recipe never tasted so good.
We spent the next day checking out Shanghai…Actually, we spent it shopping.   At every turn we made, there was someone saying "hey lady" and indicating us to follow.  They then proceeded to say those trigger key words – Prada, Louie, and my personal favorite Chanel!!  Those were probably the only English words they knew.  But, it was enough for my aunt.  With my swift take it or we leave negotiation skills, she bought several bags for really cheap.  Me?  Ok, they almost got me.  That bag was cute!!  But I prefer genuine vs. genuine fake!!
Party over here!!
Aboard the beautiful Ocean Princess, the fun began.  I was invited to coveted private tours, exclusive parties and even got to celebrate my birthday at the Captain's table for dinner.  I met many wonderful travelers, and not to mention the crew and staff were absolutely wonderful!  I even tried karaoke for the first time – twice! 
To add to the life on board experience, I am always ready for an adventure.  One of my friends tried to coax me into getting in the hot tub in SIBERIA!!!  I seriously considered it, but a quick look at the ice blocks in the ocean and my frost biten fingers turned me away from that experience.  But, hats (and coats, and gloves) off to Ross.  He did it!  He got in the hot tub on the main deck in the freezing cold weather.
Beijing – My Great Wall of Freedom!
There is a saying that "you are not a hero until you climb the Great Wall" (Chairman Mao).  With Shanghai behind us, Beijing was where my heart was set.  On cruises, I never take the offered tours as they can be a pricey and plus you have to get up at dark:thirty to participate!!  But this time was different.  Since we were actually 2 – 3 hours from the Great Wall and the tour included lunch, it was well worth every penny.  Plus, there was no way I was going to chance missing the boat in the middle of no where.
To see the architectural grandeur of the Great Wall was everything I expected and more.  It was one of those surreal moments where you just have to stop and be in awe at every step you take. Granted, there are a lot of steps!  Uneven, loose, and very steep steps on the wall.  Our visit turned out to be at the right time. Since it was winter, the crowds were gone and the air was nice, but crispy cold.  There were remnants of snow still nestled to the side of the stairways.  Oh, contrary to popular belief, you can't see the Great Wall from space with the naked eye.
Most of you know that I am a native Houstonian.  Meaning that cold to us is either going skiing or a few days of 280 weather.  But nothing could have prepared me for Dalian, China.  Disembarking the ship, snow and ice were everywhere.  The shuttle bus dropped us off at department store and from there I scouted out the town.  This was truly cold…I fell down on the ice-covered sidewalks several times.  After exploring, the cold got a bit too much for me. So, I just decided to go shopping instead.  Click on the pictures to see what I mean.
Siberia – What do you mean we are going to Siberia?  Check back for the rest of the story!!
Where Will Your Dreams Take You?