Mon 5 Dec 2011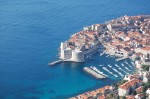 Hi All!
After many jaunts to and around the Mediterranean, Croatia has been on my LifeList for a long time.  Proclaimed to be one of the newest jet set hot spots, Croatia did not disappoint.  Nestled on the Adriatic Sea, Dubrovnik was a welcomed treat as the last stop aboard the European cruise ship.
Wandering through the medieval alleys of the Old City, there is a certain old world charm and elegance that surrounds you. The walled city rides the coast giving way to beautiful landscapes and a sea of tiled red roofs.
Taking a taxi up the steep one-laned street up to the fortress, we were pleasantly surprised at the beautiful panoramic overlooking the Old Harbor.  Apparently, one of the oldest European pharmacies is still in operation in Dubrovnik.  I never did find it.  But, I did find shopping, bell towers, beautiful churches, historic landmarks, and impressive architectural highlights at every twist and turn. Croatia is a jewel to be discovered…and I will definitely be back!!
Inspiration:  Travel is at its most rewarding when it ceases to be about
your reaching a destination and becomes indistinguishable from living your
life.  Paul Theroux
Where will your dreams take you?
Blessings!
~A