Fri 31 Dec 2010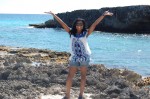 Hi All!
 This year has gone by so fast. The past few days I have been reminiscing about past journeys and adventures. In addition, I have been really inspired by so many people on Twitter and Facebook who are going after their dreams. Next year will be even better!!  Oh, did you get a chance to see  my feature in the Houston Chronicle
 or on the Career Break Secrets website?  It is still hard to believe that it has been 15 months and counting since I left corporate.  Be safe tonight and enjoy bringing in the New Year!!
Next SabbaticalScape – China, Japan, Russia…and a job?
Step it up & Do things differently! Stretch out of your comfort zone, commit yourself to God, read your bible daily, make godly choices instead of just good choices, step out on faith, and love thy neighbor as thyself. Leave the nonsense in the past and move forward seeking God first and all things will be added unto you ( Matt 6:33).
Happy New Year & Happy Travels!
Peace & Blessings.
~A
No Responses to " Moving Forward "