Tue 13 Sep 2011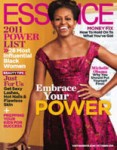 Hi All!
I am so excited to share that I am in the October issue of ESSENCE magazine with Michelle Obama on the cover!!  It is such an honor to be featured in the article "The 10 Principles of Power."  With a mention on page 18, the interview lists me 4th on page 137 under the caption regarding Power Players "Chart Their Own Course."  WOW!! I am still in awe.  Check it out and let me know what you think.
Inspiration:  "Don't be afraid of the space between your dreams and reality.  If you can dream it, you can make it so."
Be Blessed Beyond Measure!
~A
No Responses to " I'm in ESSENCE!! WooHoo! "