Tue 19 Oct 2010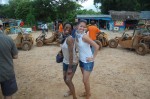 Hi Everyone!
Hearing wonderful things about a destination makes me curious.  Are the reports true?  What if my experience is different?  What makes this locale special?  One place I always wanted to visit was Punta Cana, Dominican Republic. It is located on the eastern side of the island of Hispaniola, with Haiti on the other side.  I heard that Punta Cana had beautiful beaches.  And you know me, I love azure beaches!  Punta Cana did not disappoint.
As soon as we landed, I knew the trip started off right. We were greeted by islanders playing music and kicking their tip basket toward tourists.  Kerri kicked it back and we ran!! LOL!!  We just wanted to find our shuttle and get settled for fun.
Mud everywhere!
The first night was nice, but the next day was better.  First, we loaded into the truck that shuttled us to the dune buggies.  They told us not to wear white…we later found out why. The dune buggies were actually mud buggies!  We rode through Punta Cana's back roads and country side, hitting every muddy pothole in sight.  Thanks to Kerri's driving, we were covered in red mud from the rooter to the tooter!!
Horses & Cave "diving"
Now, we were off to ride the horses on the beach. That horse was out of control.  He started to gallop and throw me all over the place. What fun!! The next stop was at some cave.  As we descended into the bowels of D. R., we realized why everyone was in line. One look at each other and we decided, "we are only here once – let's do it"!  One at a time, we jumped into the deep dark cold waters of this cave.  What a thrill!!
After we climbed back to the mud buggy to strap in, a sweet little girl helped me put my helmet back on and asked me what time it was.  I told her and gave her my watch as a thank you.  She happily ran off and then, another little girl asked me the same thing.  Unfortunately, I didn't have anything else to give her.   
Step off
We had so much fun that day! We were so tired the next morning that Kerri screamed at the maid to "Step Off" as she knocked on our door to clean the room late that morning.  Apparently, the maid understood that!
The following days were filled with water sports – parasailing and kayaking.  Plus, we got some guy to take us out on the catamaran while we soaked up the sun.  The beaches of Punta Cana are indeed beautiful.  It definitely lived up to the hype. On this trip, we didn't get to explore the surrounding area or go to Santo Domingo. But that's ok – one day I will go back!
Take a look at our adventure in pictures…enjoy!
Inspiration – It's not who you are that holds you back, it's who you think you're not. ~Author Unknown
Peace & Blessings!
~A
No Responses to " Just plain Dirty in Dominican Republic "