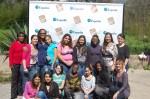 The Passport Party Project stopped in Austin on March 3, 2012.  With sponsorship from Expedia, the goal of the project is to gift 100 girls from age 11 – 15 with their very first passports by April 2013.  The project will stop in various cities, bringing together 10 girls for a day of travel related activities, fun, and getting their passport applications ready for submission.  So when the project founder Tracey Friley invited me to volunteer, I knew I had to be there for the party!
Driving from Houston to the Miracle Foundation in Austin, my mom and I hit the ground running.  Having only connected with Friley by social media, it was a pleasure to meet her in person.  After catching up, I immediately extended an offer to help get things together for the day.  Shortly thereafter, the girls started to arrive.
The girls were soo excited!!  They began the day perusing magazines for pictures that represented places they wanted to go and things they wanted to do.  Placing the pictures on a luggage shaped cardboard cutout, the girls had made their very own vision boards.  While creating their vision boards, Friley and the volunteers, Shelly Seale, Julie George, Iris Petitt, Melissa Sustaita, and myself, had the opportunity to share travel stories and adventures.
The day continued as the girls had a blast playing dress up with travel attire from around the world.  It was amazing to see the joy and happiness on their faces as the costumes actually brought out their excitement to travel even more!  After a nice lunch, the girls each had their chance in the photo booth to take their passport photos.  Several girls even won prizes such as an HD flip camera from Friley, a travel-themed children's book from Hartlyn Kids, and a custom made map necklace from Paper and Place!"
As the day came to a close, it was evident that the party was a huge success!  The smiles on the faces of the girls were such an inspiration.  It has been said that nobody can do everything, but everybody can do something. With that said, Friley has definitely done something!
 "The world is a book, and those who do not travel read only a page." Saint Augustine
Happy Travels!!
~A